HOME
|
The Official Gefen Publishing House Website -
One Stop Webstore for Jewish Books and Hebrew Studies Textbooks From Israel
|
Join Email
List
|
Contact
us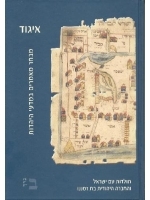 Iggud - Selected Essays in Jewish Studies, Vol. 2
History of the Jewish People and Contemporary Jewish Society
Publisher: The Hebrew University Magnes Press
Price: $49.00
Special Price: $42.10
Buy from Gefen for this special price!
Format:
Hard Cover
ISBN 10:
965741816X
ISBN 13:
9789657418161
Catalog Number:
9789657418161
Number of Pages:
520
Year Published:
2009
Description:
The present collection includes thirty-one articles written by scholars from every continent except Africa and Antarctica, a potent testimony to the truly worldwide scope of Jewish studies. Worthy of note in this context is the relatively high representation, among the authors of articles submitted and eventually chosen for publication, of The articles are divided into six chronological and/or topical categories: history of the Jews in the medieval and early modern periods; history of the Jews in Eastern Europe; Holocaust studies; Zionism and the State of Israel; gender and history; intellectual history.
The authors, senior scholars and younger researchers alike, apply a wide variety of disciplinary and interdisciplinary approaches to their topics, ranging from social and economic history to sociological field work and literary analysis. The result, we believe, is an impressive collection of studies that illuminate in innovative ways the topics chosen for investigation.