HOME
|
The Official Gefen Publishing House Website -
One Stop Webstore for Jewish Books and Hebrew Studies Textbooks From Israel
|
Join Email
List
|
Contact
us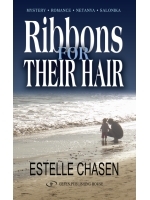 Ribbons For Their Hair
Author:
Estelle Chasen
Price: $12.95
Special Price: $10.00
Buy from Gefen for this special price!
Format:
Paperback
ISBN 10:
9652294810
ISBN 13:
9789652294814
Catalog Number:
9789652294814
Number of Pages:
208
Year Published:
2009
Description:
When young Detective Yardena Halpert is assigned a missing child case, she puts her heart and soul into finding three-year-old Adina Barzilai, despite feeling out of her league. What is the child's mother's tight-knit community hiding? And is Rafi, the girl's charismatic father, telling her the truth?
The seven days of Yardena's investigation – surreally interrupted by the 2006 Second Lebanon War - take her from Netanya to Moshav Ma'ayan Chaim, and from Haifa to Thessaloniki, Greece, where the mystery dovetails with the story of another little girl whose father searched for her many years before.
This page-turning, fast-paced read expertly blends mystery, romance, and historical narrative, as the fate of the Jewish community of Greece in World War II is outlined in painful clarity. A natural teacher, Estelle Chasen subtly educates through her riveting story lines, providing a bird's-eye view of the Jewish community of Greece as well as of several segments of modern Israeli society. The two stories merge so seamlessly that the book takes on a timeless quality, as fathers search for their daughters, families are torn apart by war, and new love sprouts even after the deepest loss.