HOME
|
The Official Gefen Publishing House Website -
One Stop Webstore for Jewish Books and Hebrew Studies Textbooks From Israel
|
Join Email
List
|
Contact
us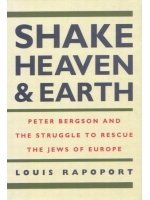 Rare Out of Print Book! Last Warehouse Copies
Shake Heaven and Earth
Peter Bergson and the Struggle to Rescue the Jews of Europe
Author:
Louis Rapoport
Publisher: Gefen Publishing House
Price: $24.95
Special Price: $24.00
Buy from Gefen for this special price!
Format:
Hard Cover
ISBN 10:
965229182X
Catalog Number:
182-X
Number of Pages:
296
Year Published:
1999
Description:
The Story told in
Shake Heaven and Earth
is the basis for Bernard Weinraub's off Broadway play, 'The Accomplices'.
This book describes the efforts of the Bergson Group to save the Jews of Europe during the Holocaust. These efforts are now recoginzed by the U.S. Holocaust Museum, which has resolved to add an exhibit dedicated the activities of the Bergson group, also known as the Emergency Committee to Save the Jewish People of Europe.
The campaign to get The Bergson group recoginzed by the Museusm was forwarded by the David S. Wyman Institute for Holocaust Studies and Israel Policy Forum president Seymour Reich and over 100 American Jewish leaders who signed a petition urging the museum to include the Bergson groupís activities in its permanent exhibit.
Shake Heaven and Earth has been recognized by many as an important work on this dramatic chapter in modern Jewish History.