HOME
|
The Official Gefen Publishing House Website -
One Stop Webstore for Jewish Books and Hebrew Studies Textbooks From Israel
|
Join Email
List
|
Contact
us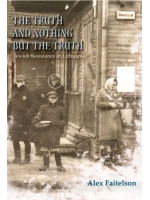 Last Warehouse Copies of Rare Out of Print Book!
The truth and Nothing But the Truth
Jewish Resistance in Lithuania (1941-1944)
Author:
Alex Faitelson
Publisher: Gefen Publishing House
Price: $29.95
Buy from Gefen for this special price!
Format:
Hard Cover
ISBN 10:
9652293644
ISBN 13:
9789652293640
Catalog Number:
364-4
Number of Pages:
510
Description:
In this, the author's twelfth book, Faitelson tells the exhaustive and authentic story of the escape from the Ninth Fort at Kovno. Faitelson's original account was published in seven languages. This new edition presents a broad gallery of cynical and cruel Nazi murderers – wild beasts on two legs, the organizers and leaders of the mass murder of the Jews of Kovno, as well as the thousands of Jews brought to the Ninth Fort from central and western Europe. At the same time, there is a description of the "Actions" – the mass murders of men, women, children and the elderly whose only "crime" was to be born to a Jewish mother. At the heart of the story are the corpse-burners, the preparations they made to escape from hell, the escape itself and the fate of the escapees.
ABOUT THE AUTHOR: Alex Faitelson survived the Holocaust, having lost his parents, his kin and his friends. He was an active member of the Anti-Fascist Fighting Unit (AKO) of the Kaunas Ghetto. Faitelson received the "Isaac Zandman Prize in Literature" for the original Yiddish edition of Heroism and Bravery in Lithuania 1941-1945" from the Federation of Partisan Soldiers. The English edition of Heroism and Bravery in Lithuania (Gefen Publishing) was published in 1996.
Reviews:
"During the tragic years of World War II, you rose against the Fascist invaders who annihilated masses of Jews. Your courageous struggle showed the world that even the worst terror could not conquer the heroic traditions of the Jewish people."
– Algirdas Brazauskas, President of the Lithuanian Republic