HOME
|
The Official Gefen Publishing House Website -
One Stop Webstore for Jewish Books and Hebrew Studies Textbooks From Israel
|
Join Email
List
|
Contact
us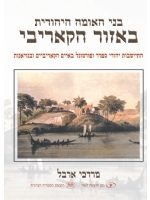 price in Israel NIS 112
Jewish Nation of the Caribbean (Hebrew)
Beney Ha-Umah Ha-yehudit Be-ezor Hakaribi
Author:
Mordechai Arbell
Publisher: Gefen Publishing House
Price: $34.95
Special Price: $28.00
Buy from Gefen for this special price!
ISBN 10:
9652293490
Catalog Number:
349-0
Number of Pages:
328
Year Published:
2005
Description:
Occasionally one comes across a book, which is unexpected, delights and inspires. Surinam, known as the 'Jewish Savannah', where a vibrant Jewish community was granted full and equal rights two hundred years before the Jews of other communities in the region. St Eustatius, where the economically successful Jewish community was plundered during the British occupation in 1781. Curacao, named the 'Mother of Jewish communities in the New World', where a prosperous Jewish community comprised nearly half of Curacao's non-slave population and was the center of Jewish life in the region.
For all their economic and local political power, the Jews were little more than pawns in the 200-year struggle for control of the Caribbean by Holland, Great Britain, France and Spain. Eventually growing tired of this chess game, the Jews of the Caribbean drifted into assimilation or immigrated to the United States, where life was more secure.
An ideal resource and captivating read for those traveling to the region or people with an interest in Jewish history, this is an exceptional book that brings the Jewish communities of the Caribbean to life, with intensity, and with a heartbeat so strong as to secure their proper and rightful place in recorded Jewish history.