HOME
|
The Official Gefen Publishing House Website -
One Stop Webstore for Jewish Books and Hebrew Studies Textbooks From Israel
|
Join Email
List
|
Contact
us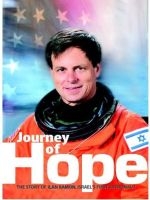 Journey of Hope
The Story of Ilan Ramon, Israelís First Astronaut
Author:
Alan D. Abbey
Publisher: Gefen Publishing House
Price: $10.00
Buy from Gefen for this special price!
Format:
Paperback
ISBN 10:
9652293164
Catalog Number:
316-4
Number of Pages:
64
Year Published:
2003
Description:
ďColumbia is lost; there are no survivorsĒ
President George W. Bush, February 1, 2003
Ramonís life stands as a beacon to those who despair of triumph in a difficult world. This book, whose creation began before the shuttle lifted off into space, chronicles Ramonís journey from air force pilot to astronaut, and includes NASA photographs, an interview with Ilan Ramon, articles about Israelís space program and much more.