HOME
|
The Official Gefen Publishing House Website -
One Stop Webstore for Jewish Books and Hebrew Studies Textbooks From Israel
|
Join Email
List
|
Contact
us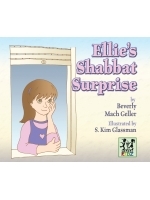 Price in Israel NIS 48
Ellie's Shabbat Surprise
Authors:
S. Kim Glassman (Illustrator)
Beverly Mach-Geller
Publisher: Gefen Publishing House
Price: $13.95
Special Price: $13.20
Buy from Gefen for this special price!
Format:
Hard Cover
ISBN 10:
9652293903
ISBN 13:
9789652293909
Catalog Number:
390-9
Number of Pages:
32
Year Published:
2008
Description:
Ellie's Shabbat Surprise is another book in the series about the family of Elisheva, or Ellie, as she likes to be called.
In this beautiful Shabbat story, Ellie has a problem. She has been practicing a special song to sing in her Shabbat group. But what has happened to her voice? It sounds funny – "kind of rough and low." How will she be able to sing?
Find out how she deals with the problem in a unique and inventive way, and join Ellie and her family from the Sabbath's beginning, "Shabbat shalom," until its end, "Shavua tov."