HOME
|
The Official Gefen Publishing House Website -
One Stop Webstore for Jewish Books and Hebrew Studies Textbooks From Israel
|
Join Email
List
|
Contact
us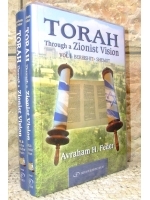 Torah Through a Zionist Vision Bereishit and Shemor
Author:
Avraham H. Feder
Price: $29.00
Special Price: $20.00
Buy from Gefen for this special price!
Format:
Hard Cover
ISBN 10:
B01MG1B6XT
ISBN 13:
9789652293954
Catalog Number:
395-4
Number of Pages:
664
Year Published:
2008
Description:
This is volume one covering Bereshit, Shemot a two volume set covering
Setting himself the task of helping each individual penetrate the Torah to make the text his/her very own, Rabbi Feder has drawn upon sources from the Jewish past – halakhic and aggadic midrashim, and the medieval, modern and contemporary parshanim interpreters – as well as contemporary authors to provide fresh insights into Torah, from familiar biblical figures to concepts in Judaism. Topics such as moral responsibility, Jewish peoplehood, the Synagogue, and humility come under new light within the framework of the traditional. Masterfully written, this book presents the challenge to Diaspora and Israeli Jews living in the era following the national resurrection of Israel to experience listening to the Torah in the light of such renewal. For the Jew living in the Diaspora, listening to Torah must be hearing, therefore, a Zionist call. For the Jew living in contemporary Israel listening to Torah is also hearing a Zionist call for a Judaism with a renewed Torah that is a beam of spiritual, moral, political, and cultural light.
Readers of this volume will gain Torah knowledge vitally relevant to our time and to their own lives.