HOME
|
The Official Gefen Publishing House Website -
One Stop Webstore for Jewish Books and Hebrew Studies Textbooks From Israel
|
Join Email
List
|
Contact
us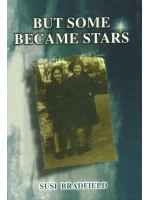 But Some Became Stars
Author:
Susi Bradfield
Publisher: Gefen Publishing House
Price: $14.95
Special Price: $12.00
Buy from Gefen for this special price!
Format:
Hard Cover
ISBN 10:
9652291935
ISBN 13:
9789652291936
Catalog Number:
193-5
Number of Pages:
256
Year Published:
1998
Description:
A moving memoir by a truly remarkable woman. From her life in Germany before the war to her abundant achievements since, Bradfield's anecdotes suffuse us with a strong, and sometimes-bitter dose of history. Through young Susi, we begin to identify with and understand the stories of the more than one million children whose lives were taken in the Holocaust.