HOME
|
The Official Gefen Publishing House Website -
One Stop Webstore for Jewish Books and Hebrew Studies Textbooks From Israel
|
Join Email
List
|
Contact
us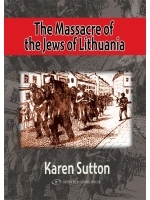 The Massacre of the Jews of Lithuania
Lithuanian Collaboration in the Final Solution, 1941–1944
Author:
Karen Sutton
Publisher: Gefen Publishing House
Price: $24.95
Buy from Gefen for this special price!
Format:
Hard Cover
ISBN 10:
9652294004
ISBN 13:
9789652294005
Number of Pages:
256
Year Published:
2008
Description:
The Massacre of Lithuanias Jews : Lithuanian Collaboration in the Final Solution, 1941–1944 exposes several misconceptions concerning the role of Lithuanians, both the leaders and the "ordinary" people, in rounding up and murdering their Jewish neighbors during the Holocaust. It is well documented that Lithuanians, before and during the Nazi occupation, actively killed Jews on their own initiative. However, what is uncovered here is that under Nazi rule Lithuanian officials and church leaders were not merely puppets of the Germans, but showed great ability to maneuver and resist German directives in nearly every other realm, with the sole exception of executing the Final Solution. Although this scholarly exposition shines light on the extraordinary acts of a precious few Lithuanians in assisting Jews, it also exposes the far more typical acts of the many, whose indifference, hatred, or self-interest made genocide possible in Lithuania.
Reviews:
"A significant addition to contemporary Holocaust scholarship and contemporary Lithuanian historical writings. Bound to be controversial, she explores all of the important issues and shows the large measure of cooperation between the Germans and the native Lithuanian population in the implementation of the 'Final Solution to the Jewish Problem,' despite the important efforts of Lithuanian leaders to finesse their limited power to preserve the promise of Lithuanian independence. She easily dismisses the all too convenient explanation of contemporary Lithuanian historians that Jews were overly involved in Communist domination during the brief interval of Soviet occupation and she probes the deeper exploration of Lithuanian anti-Semitism. Throughout, her scholarship is sound, her reasoning sharp and her writing crisp. The work is unsettling in the most important sense of the term. It will disturb those who seek to exonerate Lithuanians and press all the responsibility on the Germans and the Jews. It forces a new confrontation with the historical record and for this we should be most grateful."
–
Michael Berenbaum
Executive Editor, Encyclopaedia Judaica Second Edition
Director, Sigi Ziering Institute, American Jewish University, Los Angeles
"Karen Sutton's study of the Holocaust in Lithuania is a must for anyone wishing to understand the political and social complexities of this poignant and tragic chapter in Jewish history. The author carefully analyzes and makes a great effort to be fair and impartial to the various arguments advanced by Lithuanian apologists to excuse their countrymen's massive collaboration in the extermination of the Jewish community. Her conclusions are inescapable in refuting the pro-Communist collusion charges leveled by many of these historians against the Jewish community at large in Lithuania…. Karen Sutton is to be praised for this deeply researched study of the Holocaust in Lithuania…. This book serves as a reminder of the potentially explosive and murderous nature of anti-Semitic prejudices if allowed to thrive and prosper unchecked – as was the case in Lithuania."
Mordechai Paldiel
Former 25-year head of the Righteous of Nations Division of Yad Vashem
"A masterpiece in shedding new light on indigenous complicity of individuals and institutions determined to aid in the Final Solution in the Baltics. Karen Sutton's startling conclusions reveal troubling truths, in an impassioned book that is meticulously documented and eloquently written for scholars and general audiences."
–
Eva Fogelman, PhD
Author, Conscience and Courage: Rescuers of Jews during the Holocaust