HOME
|
The Official Gefen Publishing House Website -
One Stop Webstore for Jewish Books and Hebrew Studies Textbooks From Israel
|
Join Email
List
|
Contact
us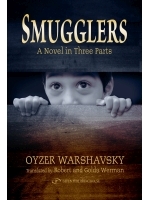 Smugglers
A Novel in Three Parts
Authors:
Oyzer Warshavsky
Golda Werman (Translator)
Publisher: Gefen Publishing House
Price: $24.95
Buy from Gefen for this special price!
Format:
Hard Cover
ISBN 10:
9652294268
ISBN 13:
9789652294265
Catalog Number:
426-5
Number of Pages:
288
Year Published:
2008
Description:
Smugglers. A Novel in Three Parts deals with a neglected chapter of history the First World War in Poland during the period of the German occupation. The Jews in the Pale of Settlement, mainly small shopkeepers and poor craftsman, suffered from discrimination and persecution under the Russians. When the Germans conquered most of what was once Congress Poland, the Jews had some relief from Russian anti-Semitism, but the economic situation became even more grievous. Famine and typhus were rampant and the economic decline left the poor cobblers, tailors and tradesmen without work and with their meager savings depleted. They were desperate. And then they hit upon a scheme.