HOME
|
The Official Gefen Publishing House Website -
One Stop Webstore for Jewish Books and Hebrew Studies Textbooks From Israel
|
Join Email
List
|
Contact
us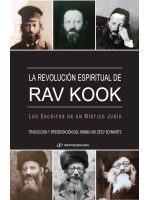 The Spiritual Revolution of Rav Kook (Spanish)
La Revolucion Espiritual de Rav Kook
Author:
Ari Ze'ev Schwartz
Price: $21.95
Buy from Gefen for this special price!
ISBN 13:
9789657023600
Catalog Number:
7023-60 g7360
Year Published:
2020
Description:
Despite Rav Kook (1865–1935) being one of the most influential thinkers in Jewish history, his revolutionary writings are mostly unknown to the general public. This book contains many new and accessible translations, as well as an in-depth spiritual biography. Each chapter is introduced and broken up into a variety of topics, including the individual, Torah, God, teshuvah, prayer, creativity, Zionism, science, and vegetarianism.
This book features an entirely new, original, accessible translation of a diverse selection of Rav Kook's writings. This work offers a surprisingly modern model of religion from the perspective of a spiritual leader who was ahead of his time.