HOME
|
The Official Gefen Publishing House Website -
One Stop Webstore for Jewish Books and Hebrew Studies Textbooks From Israel
|
Join Email
List
|
Contact
us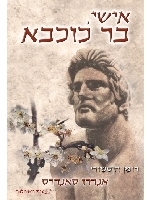 My Husband Bar Kokhba (Hebrew)
A Historical Novel
Author:
Andrew Sanders
Publisher: Gefen Publishing House
Price: $16.95
Buy from Gefen for this special price!
Format:
Paperback
ISBN 10:
9652293539
ISBN 13:
9789652293534
Catalog Number:
9789652293534
Number of Pages:
216
Year Published:
2006
Description:
An epic story of revolution and drama, My Husband, Bar Kokhba is told through the narrative and letters of Michal, the young aristocrat, who, despite her grandfather's warning, marries Shimeon bar Kosiva, later to become known as Bar Kokhba, leader of the greatest revolution against the Romans.
This latest work of historical fiction from the author of Hanina My Son delves into the life and times of this fiery revolutionary, shedding a light on the fascinating historical figure along with the Roman Emperor Hadrian and Rabbi Akiva, the great Talmudic sage that helped spark the Bar Kokhba revolution.
Brilliantly describing one of the most exciting eras in Jewish history, Sanders illustrates the irreconcilable worldviews of the "enlightened" Roman Empire and the Jewish people, stubbornly faithful to its God. My Husband, Bar Kokhba describes a life and journey of love and sorrow, revolutions and wars, victory and defeat.
From the back Flap
Who was Bar Kokhba?
A general, A revolutionary, A hero, A statesman, The
head of a powerful, independent Jewish
state.
Whichever way he is defined, Bar Kokhba's
achievements were extraordinary. Roman
records show that the empire had never
been shaken to its core by any of its
colonized people in the way it was by the
Jewish nation under the leadership of Bar
Kokhba. Bar Kokhba's letters, too, were
recovered in the early 1960s by the Israeli
general Yigal Yadin, revealing details about
this remarkable man.
My Husband, Bar Kokhba looks at the
man Bar Kokhba through fictional letters
written by his wife to her nephew and
letters written by the Roman Emperor
Hadrian. These letters demonstrate, more
than any history book, the irreconcilable
differences in the worldviews of the two
peoples, the Romans and the Jews.
My Husband, Bar Kokhba illustrates some
disturbing and controversial issues. Did
Bar Kokhba bring depredation and slavery
to the Jewish people or did he imbue the
nation with a renewed confidence and
inner strength to face the Diaspora for
eighteen centuries? Did Bar Kokhba in
fact save the Jewish faith, and, perhaps,
even the Jewish nation?