HOME
|
The Official Gefen Publishing House Website -
One Stop Webstore for Jewish Books and Hebrew Studies Textbooks From Israel
|
Join Email
List
|
Contact
us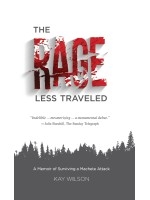 The Rage Less Traveled
A Memoir of Surviving a Machete Attack
Author:
Kay Wilson
Publisher: Gefen Publishing House
Price: $18.00
Special Price: $16.00
Buy from Gefen for this special price!
Format:
Paperback
ISBN 13:
9789657023334
Catalog Number:
7023-33 / g7333
Number of Pages:
232
Year Published:
2020
Description:
After being brutally hacked at with a machete multiple times and with her friend murdered in front of her eyes, Kay Wilson somehow managed not only to fool her attackers and play dead, she rose to her feet and gagged and bound, and bleeding to death, staggered barefoot for over a mile. A harrowing and unfathomable ordeal, this book might have been one that people are afraid to pick up. Instead, The Rage Less Traveled is impossible to put down. Most surprisingly of all, it is peppered with an appropriate absurd hilarity. The Rage Less Traveled is as much about humanity as it is about the evil that tries to destroy it. It depicts the defiance of the human spirit to get through the impossible. The Rage Less Traveled is a sobering yet blistering read that is as much about hope as it is about hell.