HOME
|
The Official Gefen Publishing House Website -
One Stop Webstore for Jewish Books and Hebrew Studies Textbooks From Israel
|
Join Email
List
|
Contact
us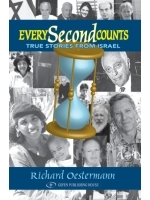 Every Second Counts
True Stories from Israel
Author:
Richard Oestermann
Publisher: Gefen Publishing House
Price: $19.95
Special Price: $17.00
Buy from Gefen for this special price!
Format:
Hard Cover
ISBN 10:
9652293598
ISBN 13:
9789652293596
Catalog Number:
359-8 / g359
Number of Pages:
240
Year Published:
2006
Description:
Every Second Counts is a collection of thirty-two human interest articles by Danish-born journalist Richard Oestermann. Through the poignant narratives offered in this collection, he opens a doorway into the lives of ordinary people, including Jews, Christians, and Arabs.
The book is a look at the lesser-known aspects of Israeli life. It is characterized by an expression of tolerance and understanding between different groups of Israeli society, as seen through the eyes and experiences of the author who began his career in Israel as a foreign correspondent covering the Adolf Eichmann war crimes trial.