HOME
|
The Official Gefen Publishing House Website -
One Stop Webstore for Jewish Books and Hebrew Studies Textbooks From Israel
|
Join Email
List
|
Contact
us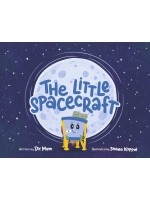 The Little Spacecraft
Authors:
Shana Koppel
Dr. Mom
Price: $16.95
Special Price: $14.00
Buy from Gefen for this special price!
Format:
Hard Cover
ISBN 13:
9789659262885
Catalog Number:
d9288 / 92628-8
Number of Pages:
26
Year Published:
2020
Description:
Berrie is a little spacecraft with a big dream: She wants to go to the Moon! But how will she prove to everyone else that small can be powerful, too? Berrie is based on the real SpaceIL spacecraft flying to the moon in early 2019! Founded by three young intrepreneurs with a dream, SpaceIL's mission is to land the first Israeli spacecraft on the Moon. With The Little Spacecraft, SpaceIL hopes to get the next generation of children excited about aerospace engineering and exploration. Dr. Mom and her team at StellarNova strive to provide children, parents, and educators with the tools to unlock the superpowers of science through literature, adventures, and hands-on experiences.