HOME
|
The Official Gefen Publishing House Website -
One Stop Webstore for Jewish Books and Hebrew Studies Textbooks From Israel
|
Join Email
List
|
Contact
us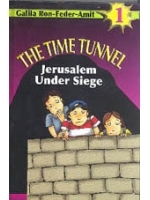 The Time Tunnel Volume 1. Jerusalem Under Siege
Author:
Galila Ron Feder-Amit
Publisher: Modan Publishing House
Price: $16.95
Buy from Gefen for this special price!
Format:
Hard Cover
ISBN 10:
9657141354
ISBN 13:
9789657141359
Catalog Number:
9789657141359 \ D-1130
Number of Pages:
96
Year Published:
2006
Description:
We entered the cave, and here we were, in a time tunnel. Suddenly we were in another era. I'm sure we seemed like aliens, extraterrestials or UFOs to the people we met... We are children of the present, with computers, mobiles phones and televisions... yet for a few hours we went back dozens of years in time.
From the back Cover of The Time Tunnel Volume 1. Jerusalem Under Siege , by Galia Ron-Feder-Amit.
This is the first of a the delightul many volume series which tells the history of modern Israel from the unlikely point of view of two 10 year-olds, Dan and Sharon, who live the Jerusalem neighborhood of Ramot, but manage to go back in time by means of a time tunnel. A great way for kids, (and grown-ups too) to learn about the history of modern Israel.