HOME
|
The Official Gefen Publishing House Website -
One Stop Webstore for Jewish Books and Hebrew Studies Textbooks From Israel
|
Join Email
List
|
Contact
us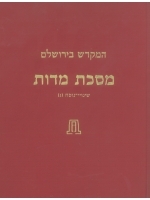 Last Warehouse Copies of Rare Out of Print Book!
Tractate Middot Variant Readings for Chapters 1 and 2
Presented as a novel form as a transcript of manuscripts and early printed texts.
Author:
Asher Zelig Kaufman
Price: $75.00
Special Price: $64.00
Buy from Gefen for this special price!
Format:
Hard Cover
ISBN 10:
965229148X
ISBN 13:
9789652291486
Catalog Number:
148-X
Year Published:
1996
Description:
This is part of the The Temple of Jerusalem series. It contains variant readings for Chapters 1 and 2 of Tractate Middot