HOME
|
The Official Gefen Publishing House Website -
One Stop Webstore for Jewish Books and Hebrew Studies Textbooks From Israel
|
Join Email
List
|
Contact
us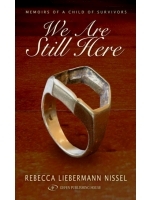 We Are Still Here

Memoirs of a Child of Survivors
Author:
Rebecca Liebermann Nissel
Publisher: Gefen Publishing House
Price: $14.95
Buy from Gefen for this special price!
Format:
Hard Cover
ISBN 10:
9652293741
ISBN 13:
9789652293749
Number of Pages:
184
Year Published:
2006
Description:
In this powerful and touching collection of essays, Rebecca Liebermann Nissel recounts the story of five generations. From her grandparentsí lives in pre-war Europe, to her parentsí Holocaust experiences, to her own childhood in Vienna, and then on to her childrenís lives as Americans and the birth of her first grandchild, Nissel weaves the tale of a family that refused to be torn apart by the cruelest episode in human history.
This is the fascinating story of a family that literally emerged from the ashes of Auschwitz, determined not just to live, but to love. Nurtured by the warmth and security of the upbringing her parents courageously managed to give her, Nissel carries a message of hope that touches the humanity within each of us.