HOME
|
The Official Gefen Publishing House Website -
One Stop Webstore for Jewish Books and Hebrew Studies Textbooks From Israel
|
Join Email
List
|
Contact
us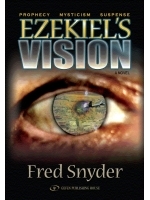 Ezekielís Vision
Author:
Fred Snyder
Publisher: Gefen Publishing House
Price: $21.95
Special Price: $19.00
Buy from Gefen for this special price!
Format:
Hard Cover
ISBN 10:
9652293636
ISBN 13:
9789652293633
Catalog Number:
9789652293633
Number of Pages:
260
Year Published:
2006
Description:
Novelist Fred Snyder weaves the divinations of ancient prophet Ezekiel into a suspenseful story of family conflicts, international unrest, and deliverance in Ezekielís Vision.
Robert Zadok is a young American college graduate determined to make aliyah despite pressures from his family to assimilate. The grandson of a scholar of the prophet Ezekiel, Zadok identifies with his ancestorsí Zionist principles, and believes he will always be conflicted between those ideals and his connections to his parents. His dream of contributing to Israelís rebirth is so strong that he defies his familyís wishes, and sacrifices both his lover and his material comforts to emigrate. Once there, he discovers a city where his grandfatherís teachings are still followed, and he begins to study a forgotten manuscript that unlocks the mysteries of Ezekielís often misunderstood prophecy. Zadok learns the secrets passed down through generations of mystics, but does not yet realize how powerful this knowledge would come to be.
Ezekielís Vision brings to life the controversy surrounding Jewish continuity, the relevance of prophecies to contemporary crises, and the tough choices we often face within our relationships Ė both personal and international. In a story that weaves mysticism, prophecy, and kabalistic secrets with the everyday challenges of marriage and family life, Fred Snyder illuminates the many conflicts facing Jewish people today.