HOME
|
The Official Gefen Publishing House Website -
One Stop Webstore for Jewish Books and Hebrew Studies Textbooks From Israel
|
Join Email
List
|
Contact
us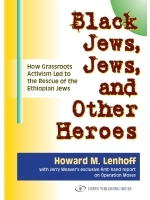 Black Jews, Jews, and Other Heroes
How Grassroots Activism Led to the Rescue of the Ethiopian Jews
Author:
Howard M. Lenhoff
Publisher: Gefen Publishing House
Price: $24.95
Special Price: $20.00
Buy from Gefen for this special price!
Format:
Paperback
ISBN 10:
9652293652
ISBN 13:
9789652293657
Catalog Number:
365-7
Number of Pages:
328
Year Published:
2006
Description:
Seldom has a small grassroots organization polarized American Jewry as did the American Association for Ethiopian Jews (AAEJ) and seldom has a grassroots organization been so successful.
How were five governments persuaded that it was to their interest to allow the threatened Jews of Ethiopia to fulfill their dream of rejoining their brethren in Israel? From 1974 through 1991, active AAEJ members demonstrated that it was possible to rescue black Jews from Africa. They enlisted the support of college students, American Rabbis, editors of the Jewish press and other Zionists. Lenhoff's memoir provides many untold stories behind this historic drama: How Israeli Ethiopian Jews and Americans Jews worked secretly to rescue over 1,000 Ethiopian Jews. How Jerry Weaver masterminded Operation Moses – the first mass exodus of black Africans as free people – not as slaves. How two gutsy American women set up a situation allowing Israel to rescue 14,000 Ethiopian Jews in one day of Operation Solomon. There is more: the intrigues in Israel between the politics of religion and the Law of Return; the daring heroic adventures of courageous Ethiopian Jews as they trekked from Ethiopia to Sudan. These are the stories of activists who challenged the establishment and won!
Black Jews, Jews, and Other Heroes is written from the first-hand experiences of one of the AAEJ's three Presidents, scholar-activist Howard Lenhoff. Lenhoff and Gefen Publishing House are especially pleased to present also as part of this book, the untold story of "righteous gentile," Jerry Weaver.