HOME
|
The Official Gefen Publishing House Website -
One Stop Webstore for Jewish Books and Hebrew Studies Textbooks From Israel
|
Join Email
List
|
Contact
us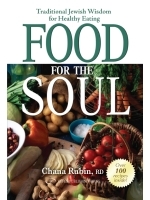 Food for the Soul
Traditional Jewish Wisdom for Healthy Eating
Author:
Chana Rubin
Publisher: Gefen Publishing House
Price: $16.95
Special Price: $15.20
Buy from Gefen for this special price!
Format:
Paperback
ISBN 10:
9652294063
ISBN 13:
9789652294067
Catalog Number:
9789652294067
Number of Pages:
344
Year Published:
2008
Description:
With the information included in this book, you will be well equipped to make healthy food choices and prepare nutritious meals for you and your family. Food for the Soul: Traditional Jewish Wisdom for Healthy Eating addresses nutrition and health from a Jewish perspective. The nutrition information is universal, but tailored to the Jewish population's specific needs – kashrut, lifestyle, Shabbat and holidays, fast days and the unique Jewish culture of food.
Reviews:
Chana Rubin provides kosher and sound dietary advice in bite-size tasty nuggets. This book gives excellent science-based nutritional counsel in a way that improves your health while enriching your soul. I heartily recommend it.
- Meir Stampfer, MD, DrPH
Professor of Epidemiology and Nutrition, Harvard School of Public Health
Jewish cooking can be heavy, while healthy cookbooks too often are heavy handed.
Food for the Soul
is a most welcome compilation of thoughtful nutrition, dietary information and representative recipes geared towards a Jewish lifestyle.
Food for the Soul
is not a cookbook per se, but rather a guidebook for adapting to a healthier lifestlye. Chana Rubin proves that Jewish food, based on eating foods that are tasty and good, can be healthy and delicious.
- Gil Marks
Author of the James Beard Award-Winning
Olive Trees and Honey and The World of Jewish Cooking
Chana Rubin''s nutritional information is tailored to the needs and obligations of keeping kosher, observing Shabbat and holidays and Jewish cultural connections to food. This is about eating in moderation, with sensitivity, care, pleasure and kavanah, or thoughtfulness
- Sandee Brawarsky
The Jewish Week