HOME
|
The Official Gefen Publishing House Website -
One Stop Webstore for Jewish Books and Hebrew Studies Textbooks From Israel
|
Join Email
List
|
Contact
us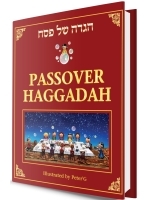 Price in Israel NIS 64
Passover Haggadah
Author:
Peter G' Gandolfi (Illustrator)
Publisher: Gefen Publishing House
Price: $19.95
Special Price: $11.97
Buy from Gefen for this special price!
Format:
Paperback
ISBN 10:
9652294187
ISBN 13:
978-9652294180
Catalog Number:
g418n
Number of Pages:
128
Year Published:
2008
Description:
In this illustrated Haggadah renowned artist, Peter Gandolfi has highlighted on each page the central theme of the main passage. The artwork accompanies the reader throughout the text, contributing to the profound emotional experience of the Seder. With the aid of this Haggadah the reader will truly feel that we are the children of Israel coming out of Egypt and we should rejoice over every moment of this event.