HOME
|
The Official Gefen Publishing House Website -
One Stop Webstore for Jewish Books and Hebrew Studies Textbooks From Israel
|
Join Email
List
|
Contact
us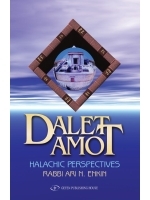 Dalet Amot: Halachic Perspectives
Author:
Ari Enkin
Publisher: Gefen Publishing House
Price: $24.95
Special Price: $22.95
Buy from Gefen for this special price!
Format:
Hard Cover
ISBN 10:
9652294098
ISBN 13:
978-9652294098
Number of Pages:
320
Year Published:
2008
Description:
In these clear and concise yet comprehensive essays, the author examines over 100 contemporary issues highlighting their timely relevance from the perspective of halacha – Jewish law. Never shy of controversy and flavored with humor -readers are sure to enjoy this fresh outlook on our daily tasks. With over 1000 references to a variety of classical Jewish texts, Dalet Amot is appropriate for laymen and scholars alike and facilitates further exploration of the issues in their original sources.