HOME
|
The Official Gefen Publishing House Website -
One Stop Webstore for Jewish Books and Hebrew Studies Textbooks From Israel
|
Join Email
List
|
Contact
us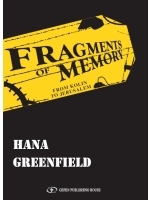 Fragments of Memory- New and Revised
From Kolin To Jerusalem
Author:
Hana Greenfield
Publisher: Gefen Publishing House
Price: $9.95
Buy from Gefen for this special price!
ISBN 10:
9652293792
ISBN 13:
9789652293794
Catalog Number:
9789652293794
Number of Pages:
168
Year Published:
2006
Description:
Over 16,000 sold. The nineteen haunting but touching narratives take the reader into the heart of a young teenage girl as she endures the Nazi death camp system.
Introduction by Vaclav Havel, President of the Czech Republic.
From the book
'In Auschwitz, time had different dimensions. Time here was defined by waiting for the one daily ration of a slice of bread, which was the very substance of life...'
Reviews:
'One striking element … fully as powerful as the text, is the rich and varied scope of the illustrations which the author has interspersed on almost every page: drawings made by camp inmates, photographs, caricatures and historical documents.'
Helen Schary Motro
Esra Magazine