HOME
|
The Official Gefen Publishing House Website -
One Stop Webstore for Jewish Books and Hebrew Studies Textbooks From Israel
|
Join Email
List
|
Contact
us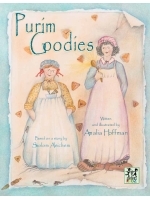 Purim Goodies
Author:
Amalia Hoffman
Publisher: Gefen Publishing House
Price: $12.95
Special Price: $10.00
Buy from Gefen for this special price!
Format:
Hard Cover
ISBN 10:
965229389X
ISBN 13:
9789652293893
Catalog Number:
389-3
Number of Pages:
36
Year Published:
2007
Description:
Purim Goodies is a beautifully illustrated children''s book that tells about the many assorted ingredients related to the Purim Holiday and the importance of giving.
The book also includes a Recipe for baking Hamantaschen as well as a glossary of Yiddish terms used throughout the story!
Who could resist the tempting smell of fresh-baked Purim goodies? Kleineh Adella and Groyseh Adella just can't. And so … they nibble on the torte, dip into the pudding, pinch the mandelbrot and … even though they don't mean to … completely gobble up the hamantaschen. But when these mischievous young maids attempt to deliver the Purim goodies to the families of their employers' best friends … oy vey, oy vey, there are only leftovers on the tray! Seasoned with humor, sprinkled with Yiddish words, sweetened with luscious illustrations and a delicious hamantaschen recipe, this book is sure to whet your appetite.
Reviews:

''Purim Goodies is the best Gefen children''s book I''ve seen! Looking forward to the others.''

Linda R. Silver

AJL Newsletter Children''s Book Reviews

Sunday, April 01, 2007


The story is such fun; it will always be appreciated as fitting for Purim. Highest praise for the writer/illustrator.

Amalia Hoffman''s art is enchanting and appeals to the child in each of us! Every page is filled with humor that tickles the imagination: fences with features, houses that smile, fowl and animals that participate and add to the richness of the story. Loved the idea of the Rabbi looking into the Holy books for answers to ''problems''; traditional objects and Yiddish names and expressions interspersed make this a truly Jewish story that my own grandmother would have loved as much as I, as a grandmother, do. Can''t wait to share this with my own grandchildren!

Compliments to GEFEN on the quality of the paper and colors both of which make your books so appealing.


Chana Givon


February 2007