HOME
|
The Official Gefen Publishing House Website -
One Stop Webstore for Jewish Books and Hebrew Studies Textbooks From Israel
|
Join Email
List
|
Contact
us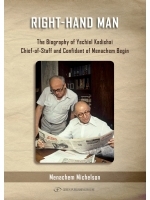 Price in Israel NIS 80
Right Hand Man
The Biography of Yechiel Kadishai, Chief of Staff and Confidant of Menachem Begin
Author:
Menachem Michaelson
Price: $29.95
Special Price: $22.00
Buy from Gefen for this special price!
ISBN 10:
9652297364
ISBN 13:
9789652297365
Catalog Number:
736-5 \ g736
Description:
Right-Hand Man is the gripping story of Yechiel Kadishai, Menachem Beginís right-hand man and confidant. Kadishai was by Beginís side for decades, from the long years in the desert of opposition to Beginís ascendance to the premiership; from meetings with world leaders and receiving the Nobel Peace Prize to the Lebanon War; from Beginís resignation and seclusion until his death.