HOME
|
The Official Gefen Publishing House Website -
One Stop Webstore for Jewish Books and Hebrew Studies Textbooks From Israel
|
Join Email
List
|
Contact
us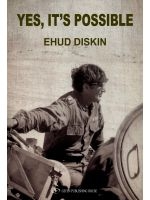 Yes, It's Possible
Author:
Ehud Diskin
Publisher: Gefen Publishing House
Price: $17.90
Special Price: $16.11
Buy from Gefen for this special price!
ISBN 10:
9652296562
ISBN 13:
9789652296566
Catalog Number:
9789652296566
Number of Pages:
301
Year Published:
2014
Description:
Ehud Diskin's mother wanted him to play it safe when he was drafted into the Israel Defense Forces. Instead, he volunteered for one of the IDF's most dangerous assignments in a move that altered the course of his life. In Yes, It's Possible; a compelling new translation of his Hebrew memoir, Diskin recounts his fascinating and tumultuous life story first as a child in besieged Jerusalem and growing up alongside the State of Israel.
Ehud Diskin reached a rank of a full colonel in the IDF and fought as a commander in the armor forces in three wars. He worked closely with famous generals, politicians and prime ministers. He shares with the reader interesting stories not known to the general public. In the Yom Kippur war, he was the operation officer of the first brigade to cross the Suez Canal as part of the division of General Ariel Sharon. Diskin tell us how Sharon brilliantly turned that catastrophic war into a victories one.
Along the way, he studied and earned a PhD in financial management. He married a Jewish American woman and moved to the U.S.
Sadly, it did not work out and he had to start all over again. With plenty of hard work and little luck, he reached success against all odds. He shares with the readers his road and his tips to achieving success.
As an American and an Israeli, he shares his view of the place of Israel in the American Jewish community and the political situation of Israel.
Yes, It's Possible is full of captivating stories, funny anecdotes, and nostalgia for the little Israel of bygone days, along with the penetrating human insights of a sharp and successful businessman.