HOME
|
The Official Gefen Publishing House Website -
One Stop Webstore for Jewish Books and Hebrew Studies Textbooks From Israel
|
Join Email
List
|
Contact
us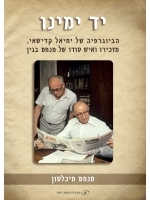 His Right Hand (Hebrew)
Yad Yemino: Biography of Yechile Kadishai, Personal Secretary and Confidant of Menachem Begin
Author:
Menachem Michaelson
Publisher: Gefen Publishing House
Price: $20.00
Special Price: $14.00
Buy from Gefen for this special price!
ISBN 10:
9652296104
ISBN 13:
9789652296108
Catalog Number:
610-8 / g610
Number of Pages:
272
Year Published:
2013
Description:
Yad Yemino is the gripping story of Yechiel Kadishai, Menachem Beginís right-hand man and confidant. Kadishai was by Beginís side for decades, from the long years in the desert of opposition to Beginís ascendance to the premiership; from meetings with world leaders and receiving the Nobel Peace Prize to the Lebanon War; from Beginís resignation and seclusion until his death.
Menachem Michelson, born in Israel, was privileged to be among the paratroopers who took part in liberating Jerusalem. A graduate of Bar-Ilan University, Michelson has authored numerous books, as well as acting as senior editor and writer for Yedioth Ahronoth for over forty years. Michelson formerly served as the aliya representative in England.