HOME
|
The Official Gefen Publishing House Website -
One Stop Webstore for Jewish Books and Hebrew Studies Textbooks From Israel
|
Join Email
List
|
Contact
us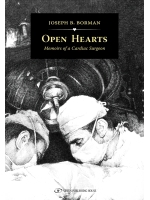 Open Hearts
Price in Israel nis 60
Author:
Joe Borman
Publisher: Gefen Publishing House
Price: $18.95
Special Price: $16.00
Buy from Gefen for this special price!
Format:
Paperback
ISBN 10:
9652296333
ISBN 13:
9789652296337
Catalog Number:
9789652296337
Year Published:
2013
Description:
From his childhood in South Africa to his education and marriage in England and his eventual career in Israel, renowned cardiac surgeon Professor Joseph Borman narrates the highlights of his highly accomplished life and career with wit and humanity. Borman's many contributions to Israeli medicine and society include the emergency surgery he performed on the critically injured soldier Doron Lancet during the 1967 Six-Day War, which saved the life of the man who would go on to become the leader of the Israeli team that helped map the human genome.Always focused on ethics above all, Borman relates dilemmas such as the choice of an Arab recipient for a heart donated by the family of a reserve officer in the Israel Defense Forces killed by an Arab terrorist. Professor Borman also recounts the interesting stories of some of his patients and describes the "roots trip" he and his wife have taken with their children to the ancestral Eastern European towns where their parents were born and lived.
Reviews:
Professor Joe Borman is a giant of Israeli medicine and the founding father of modern open-heart cardiac surgery.… Joe was a pioneer in valve replacement surgery, particularly in children. He pioneered coronary artery bypass surgery in Israel and undertook the nation's first successful heart transplantation. His surgical prowess was unusual and many of his patients are alive thirty years after their initial operations. He was a gentle and patient surgeon and a unique leader of the team, maintaining quiet discipline and excellent interpersonal relationships.… is autobiography reveals the development, aspirations and internal self-searching of a great cardiac surgeon. It is essential reading for everyone who wishes to understand the inner workings of modern medicine.
Professor Mervyn Gotsman
previous head, Department of Cardiology,
Hadassah University Hospital, Jerusalem
Thousands suffering from life-threatening heart disease have gained many years of quality life and pleasure thanks to this unique individual with his skills, his open mind and his open heart. However, should a representative of the media interview him on the subject he would never take full credit for his success. 'It's not a one-man show, it's team work and without the contribution of every single member it would never work out.'
Joram Rozov
former Associate Professor, Bezalel Academy of Art and Design
You know, if I have never before understood exactly why I am in Israel, today I have the answer. I feel so much a part of the country. I feel I am contributing in the most meaningful way I can to the care of the wounded and to the welfare of Israel as a whole. I shall never again have doubts about our decision to settle in this small, developing land – which is our own and which is so dear to Jews all over the world.
Dr. Joe Borman
phone call to his wife from Beersheba Hospital during the
Six-Day War