HOME
|
The Official Gefen Publishing House Website -
One Stop Webstore for Jewish Books and Hebrew Studies Textbooks From Israel
|
Join Email
List
|
Contact
us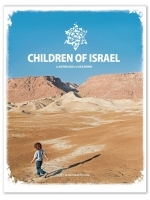 Children of Israel
Photo Essay
Authors:
Alethea Gold
Luca Zordan
Publisher: Gefen Publishing House
Price: $36.00
Special Price: $27.68
Buy from Gefen for this special price!
Format:
Hard Cover
ISBN 10:
9652296236
ISBN 13:
9789652296238
Catalog Number:
9789652296238
Number of Pages:
192
Year Published:
2013
Description:
This amazing coffee table book contains many inspirational stories that are not widely known, and that show so movingly that peace is possible. The personalities of the children shine through in their photos as well as in the accompanying quotes, which range from poignant to utterly hilarious.
This book is filled with stunning images of Israeli children from an array of different cultures. They are photographed against the backdrop of spectacular Israeli landscapes, ancient structures or iconic buildings, or in the children's homes, schools or kibbutzim.
In photos that span the length and breadth of Israel, there are children walking in the mountains of Masada, boys celebrating their Bar Mitzvahs at the Western Wall in Jerusalem, Jewish and Arab girls from the Peres Center for Peace playing soccer together. There are Bedouin children using an iPod in the Negev Desert, Bedouin, Arab and Jewish kids learning martial arts at Budo for Peace on the Mediterranean Sea, kids having fun playing the piano on the streets in Tel Aviv.
With this exquisite coffee-table book, Alethea Gold and Luca Zordan built upon the success of their previous collaborative works, Children of China (2008) and Children of Africa – South African Edition (2010). 100 percent of the profits from those books was donated to children's charities in their respective countries. Alethea and Luca are donating 100 percent of their proceeds from this book to the Ethiopian children at the Nurit Absorption Center in Be'er Sheva, Israel, to help fund sports and music coaches and equipment for the Ethiopian refugee children.