HOME
|
The Official Gefen Publishing House Website -
One Stop Webstore for Jewish Books and Hebrew Studies Textbooks From Israel
|
Join Email
List
|
Contact
us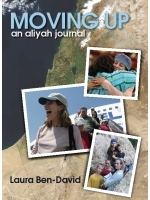 Moving Up
An Aliyah Journal
Author:
Laura Ben-David
Price: $12.95
Buy from Gefen for this special price!
Format:
Paperback
ISBN 10:
965734414X
ISBN 13:
9789657344149
Catalog Number:
9789657344149
Number of Pages:
204
Year Published:
2006
Description:
When she packed up her bags, her family, and her life, to depart the United States for a permanent move to Israel, Laura Ben-David never knew that Aliyah would be the most emotional, frustrating, moving, and hilarious experience of her life. Moving Up: An Aliyah Journal beautifully captures Laura Ben-David's family's highs and lows as they navigate Israeli bureaucracy, a new culture, a host of remarkable characters, and a 2,000-year-old dream, all with wit, energy, and passion. Compulsory reading for anyone considering Aliyah or already living in Israel, but all will enjoy this book - over and over again.
Reviews:
For centuries, Jews throughout the world have yearned, prayed, sung, and studied about returning to Israel, and throughout our tumultuous Diaspora experience, that very dream of
returning home has sustained our people.
Close to sixty years ago, with the creation of the State of Israel, a dream that seemed so elusive became a reality. What most Jews throughout history were deprived of in their lifetime, could now be a precious reality for a new generation.
While North American Jewry did not pick up en masse and immigrate to Israel, a significant number of Americans did – more than 150,000 made the journey home. Whether it is for national, ideological, or spiritual reasons, Americans are continuing to choose to make Aliyah because of their deep bond and connection to the land and the Jewish people.
Although one man or woman's move is a fulfillment of a personal journey, its impact is felt and embraced by an entire country. In this small country of Israel, every person counts. Israelis eagerly anticipate the talent, the entrepreneurship, the contributions, the Zionistic ideological passion, and the Western education and professionalism that are embodied in all Olim that arrive on Aliyah from North America.
It is with each and every new Oleh that Israel is enhanced and continues to prosper. The doctor, the teacher, the actor, the physical therapist, the musician, is all, in his own way, building Israel, one person at a time.
Therefore, when any book, memoir, or publication is published, it is received with excitement and encouragement for it helps stress the viability of living one's dream in Israel and the fulfillment of our national destiny. We applaud Laura Ben-David for her honest, inspiring, and humorous Aliyah memoirs. The reader will follow her on her emotional roller coaster as she experiences the trials and the triumphs of establishing her family in her new home in Israel.
Many will discover a modern Israel that they were unaware of and some might even follow in her footsteps…
From the forward by
Rabbi Yehoshua Fass
,Founder & Executive Director Nefesh B'Nefesh