HOME
|
The Official Gefen Publishing House Website -
One Stop Webstore for Jewish Books and Hebrew Studies Textbooks From Israel
|
Join Email
List
|
Contact
us
Jeff Kaye serves as a Vice President at Ben-Gurion University of the Negev in Israel. He moved to Israel from his native Scotland in 1981, with a degree in psychology from the University of Strathclyde. Beginning his professional life as a teacher and school principal, he was sent to Detroit, Michigan by the Jewish Agency for Israel as a senior emissary. On his return to Jerusalem he served the organization for a decade as a senior executive, before becoming the Executive Vice President of the International Fellowship of Christians and Jews. He is co-founder of the Israel Academy of Philanthropy.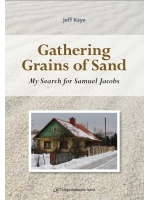 Gathering Grains of Sand
Price: $19.95 $18.00
My Search for Samuel Jacobs
ALMOST EIGHTY YEARS AFTER Samuel Jacobs died ...
More